Pets might not be our first thought when we think about armed conflict, but they're a surprising part of it. In the current war in Ukraine, many refugees fleeing the country are bringing beloved pets with them and, luckily, neighboring countries have been able to take some of them in. Despite nearly impossible circumstances, animals are being saved and even brought to the US and going to loving families. Some, however, are living directly on the front lines with soldiers, including the adorable cats featured in this video.
In it, you see cats of all shapes and sizes hanging out with their buddies dressed in fatigues and often ready for action. The kitties climb up their people or ride along in satchels or assist the war effort by becoming lookouts (or at least pretending to). While they may not be a lot of help in that arena, they can provide friendship and become true assets to their units (some trained military dogs deploy with troops around the world to help with things like finding land mines and search and rescue). Interestingly, animals have always been essential to war, not just as the cavalry but in a companionship role as well.
Comments on the post and on Reddit showed support for the humans and the cats in the video. Top commenter Glenda praised the soldiers "Love seeing the way y'all take care of these innocent creatures," while user1834208669133 sent more general support "Stay safe brave warriors and your fur warriors. Glory to you all ????." Others pointed out the greatness of having a pet around: "Combat Kitties!" said ujustgotpwnd.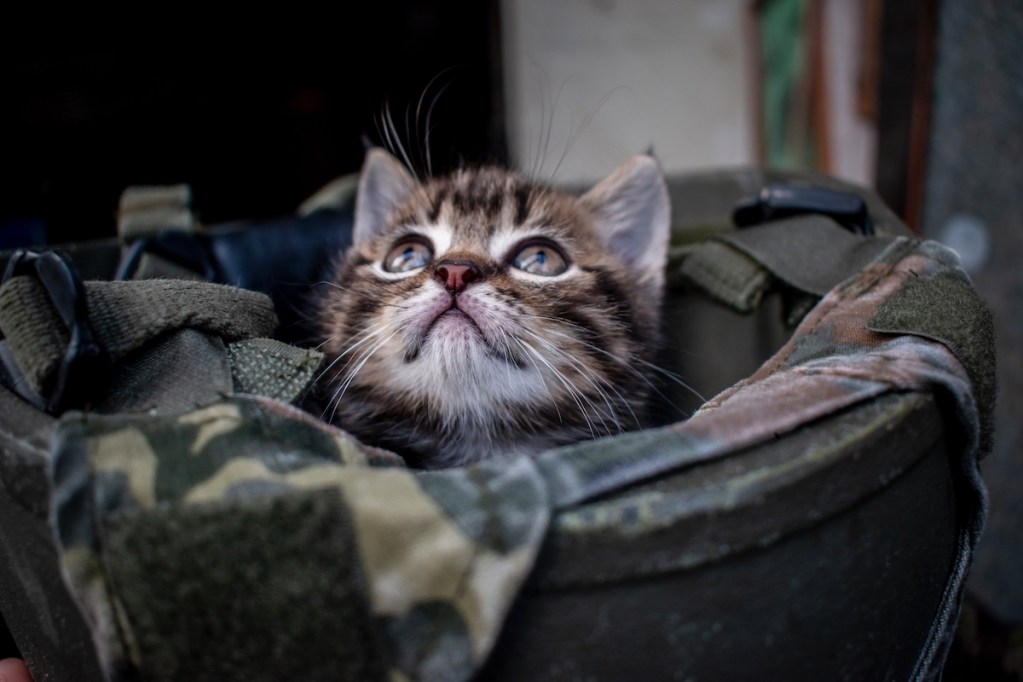 While having animals in a war zone might seem like a distraction, u/sali_nyoro-n agreed that "Ukraine has demonstrated the importance of cats to a modern army, and no soldier should be without one on the modern battlefield. Love and affection towards kitties is the ultimate morale boost."
u/HLCMDH added "Also great pest control for whatever little hole there holds up in during these war times."
It's true: part of the role of felines has always been to eat rats and mice, whether on British navy ships or in the trenches of WWI. In fact "An estimated 500,000 cats served in World War I" and many Ukrainian cats are continuing the tradition.
Ukrainian kittens are staying strong and cute! entitles the repost of this video. We're glad the animals here are both helping their humans and all of us who get to watch them in action and continue to support their efforts. If it inspired you to donate, you can find a list of vetted charities and other relief efforts or look into the adoptable dogs and cats who have escaped this or other areas of conflict around the world.
Editors' Recommendations