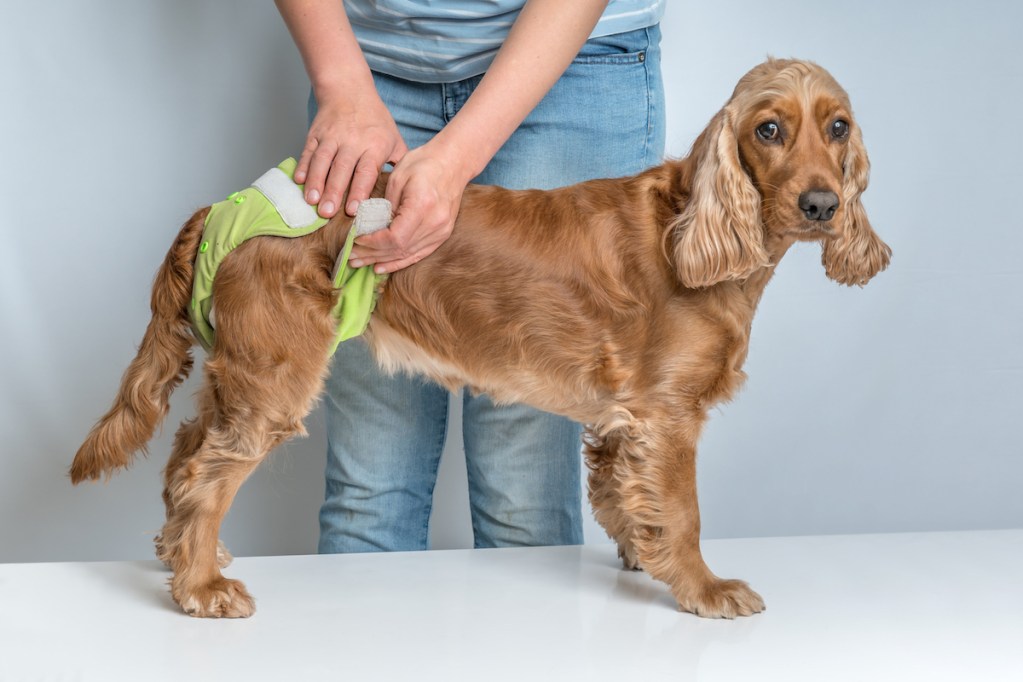 Most dog owners luckily never need to reach for the diaper bag — we potty train our puppies and often enjoy the results for their whole lives. However, there are a few reasons why you might need to invest in dog diapers. Some of these are passing conditions, but as your pet ages, you may find that dog diapers become a part of your routine. It sounds a bit unpleasant, but with a little help, you can tackle it.
Why might my pet need them?
While most dogs will hopefully never have to wear any, they could wind up in doggie depends, temporarily or for life. Some pet parents use diapers when they know they won't be able to let their animal out to potty — on a long plane ride for example. That's a good time for a one-off. Here are a few reasons you might need to stock your drawers with dog diapers.
They've gotten older
As pets age, sometimes incontinence sets in (and it could happen to you, too). This comes from the muscles of the bladder getting weaker and not performing as well, meaning a little bit of pee leaks through. It's much more common in female dogs, but can happen to any pooch.
She's in heat
Not totally unlike when a human has monthly bleeding, you might spot a bit of bloody discharge from a female dog in heat (fortunately, it doesn't happen as often, only a couple times per year). She also may urinate more frequently or even scent mark during this time.
He needs to be fixed
Before neutering, male dogs often mark, sometimes almost constantly, particularly if they can smell a female dog in heat nearby. If you're choosing not to neuter, you'll have to use a belly band a lot, though sometimes dogs can be trained out of this behavior with time and dedication.
They have a health condition
If your animal suddenly starts losing control of their wee, it's likely something simple, such as a urinary tract infection. Some long-term conditions like Cushing's disease, diabetes, and kidney problems could also be the issue. Work with your pet care team to ensure that a diaper won't interfere with topical medication or spread bacteria.

What kind of diaper should I get?
There are a few different kinds out there, depending on exactly what issue you're working on with your pet. Many male dogs, especially if they are really just scent marking, will require a . Female dogs in heat likely require a , but don't worry, there's a little hole for the tail. Do a bit of research including buying one kind and seeing if it works. Try to be as sustainable as possible and purchase cloth options that can go straight into the wash when possible.
You'll notice we're only talking about diapers that catch pee, but you can use ones that do both as well. For a poop issue, we do recommend , so hopefully you won't have to use these consistently. Make sure to get the right size, seal it carefully, and change it often — you absolutely do not want to end up with puppy poop all over your house. While slightly less easy, you can still use a dog diaper for those issues, too.
Editors' Recommendations