Pups enjoy their beauty sleep at least as much as humans. It's one of the reasons people love taking videos of their animals napping — it's cute and funny to watch them dream (and sometimes kick while at rest). But when that peaceful rest is disturbed, you might get a hilarious reaction from your beast. The phrase "let sleeping dogs lie" applies in this particular situation in which a young girl decides to wake a pup and gets her just desserts.
Why shouldn't you disturb a dog sleeping peacefully? This popular video captioned "Little girl woke up this dog on the beach" shows how a happy pup enjoying a dog beach day would react if you woke him up. It starts with two dogs lying in the sand with a young kid gently nudging them with her feet. She continues to kick with no response from the buds, while the text says, "Wait for it." Suddenly one pops up, shakes off, and proceeds to dig into the sand, covering her. She struggles away as the dog continues to spray sand all over her. In the end, we watch her crawl off with her dog friend continuing to search for something underground.
The top comment by NY City summed it up nicely with "justice delivered ?" and pets_being_pets, who posted this video, certainly delivered too. Mo followed up with "good dog??" while ? Julie Ann ? chimed in "that was karma right there." The original poster responded: That dog knew exactly what he was doing. Finally, Gino Lopresti praised the pooch's revenge by reminding us, "Way better [than] biting." It's true we can support this particular form of comeuppance.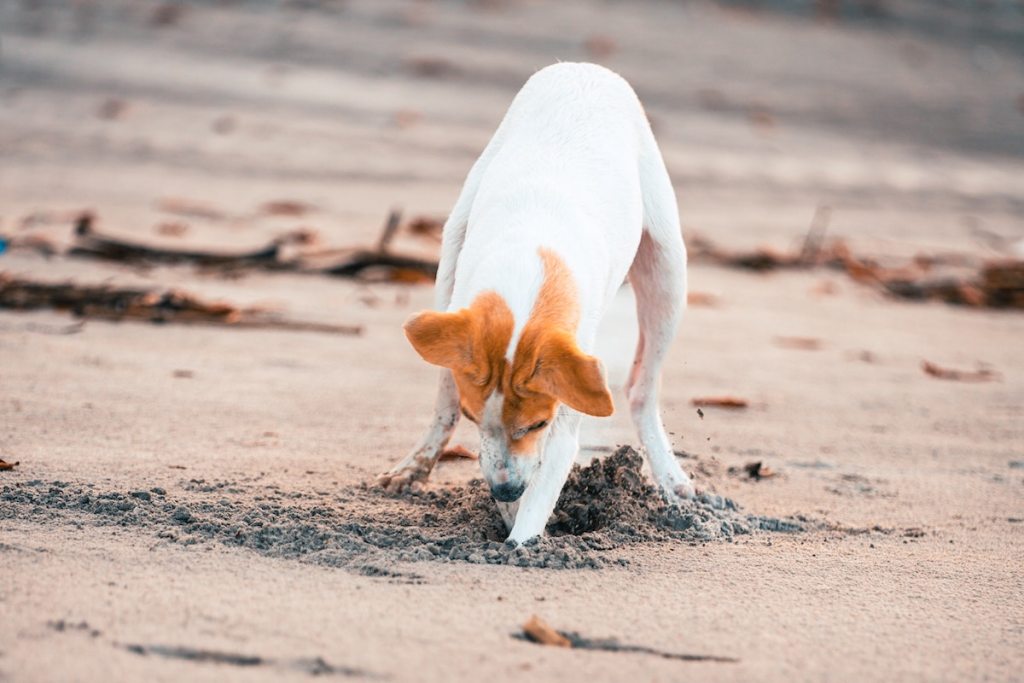 Why do dogs dig for fun?
Sometimes, dog digging is utilitarian, like when you bury something in the yard for Fido to find. However, many dogs seem to dig for enjoyment. There are a few reasons for it.
First, digging can be mentally and physically stimulating for them, especially in the dirt or another surface where they get similar traction, such as your rugs.
Additionally, dogs have scent glands in their feet and so digging can mark their territory — if you see them pawing their bed that's probably why.
Lastly, while all digging dates back to their wolfy ancestors, some breeds, such as terriers, are particularly trained to do it. With no rodents to dig up in their daily life, they take those skills and use them on your carpet instead (much to your dismay).
So what lesson does this little video teach us about our pets? Best to leave pups alone while they are napping unless you want a taste of doggy revenge. And if you disturb a sleeping dog on the beach, you may wind up covered in sand.
Editors' Recommendations