As much as dogs love going for a walk, standing on concrete during the summer can make it unbearable. It's easy to overlook this painful detail since you're probably used to wearing shoes, but this is why investing in dog paw heat protection is more than important for your pup's well-being — it's essential.
Simple accessories like dog paw nonslip booties can protect your fur baby's feet from the heat, but they'll no doubt take some getting used to. There are many products you can consider for your pup, but nothing beats moving your walk to the beginning or end of the day. The air and the pavement will both be less scalding — which will benefit you, too!
Why you should protect your dog's paws
Do you know how hot concrete can get? In an informational video from the VCA, Dr. Sarah Hoggan measures the temperature of different surfaces on a 92-degree (Fahrenheit) day:
Light-colored concrete in the sun: 102 degrees
Light-colored concrete in the shade: 67 degrees
Blacktop in the sun: 111 degrees
This video was shot at 10:30 in the morning, so any surfaces in the sun have been exposed to only a few hours of sunlight. You can expect these numbers to skyrocket by midafternoon. These were the measurements at 3 p.m. that same day when the outside temperature was 97 degrees:
Light-colored concrete in the sun: 133 degrees
Light-colored concrete in the shade: 106 degrees
Blacktop in the sun: 129 degrees
She reminds listeners that dog skin and human skin react differently to heat, so you can't expect your pup's pads to blister or show the same symptoms. Many dogs don't show discomfort or pain, either, so it's up to you to keep their feet safe!
How to tell if the concrete is too hot for your dog
Although canine and human bodies react differently to heat, it's always a good idea to wait to exercise if you feel uncomfortable in the heat. If you're feeling unwell, your pup probably is, too. Even if you feel fine, though, your dog's skin, body, and paws can be more susceptible to damage.
The traditional rule of thumb is as follows: Hold the back of your hand to the concrete surface for five to seven seconds. If you have to pull your hand away or are uncomfortable, it's too hot to walk your dog.
The best dog paw heat protection
If your pup is going to be walking during a warm time of day, heat-protective dog shoes can do wonders for saving their paws. The Ruffwear Grip Trex Dog Boots are a top-of-the-line example that uses rubber outsoles to protect paws from both heat and slippage, making them ideal for hikes and more adventurous walks as well.
Many booties for dogs, including the Bark Brite All Weather Reflective Neoprene Dog Boots, are both weatherproof and puncture-proof. These shoes are fitted and stretchy, so they'll conform to your dog's paws for the best fit. Plus, with a reflective strap, you'll be sure to be seen while out walking!
A pup-safe paw balm can provide moisture and relief for paws that have been exposed to heat or just need some extra TLC. You can use a product like this before walks as well, but this alone is not enough to keep paws safe from heat damage. If used as an extra precaution during a morning walk, though, it can be a great help.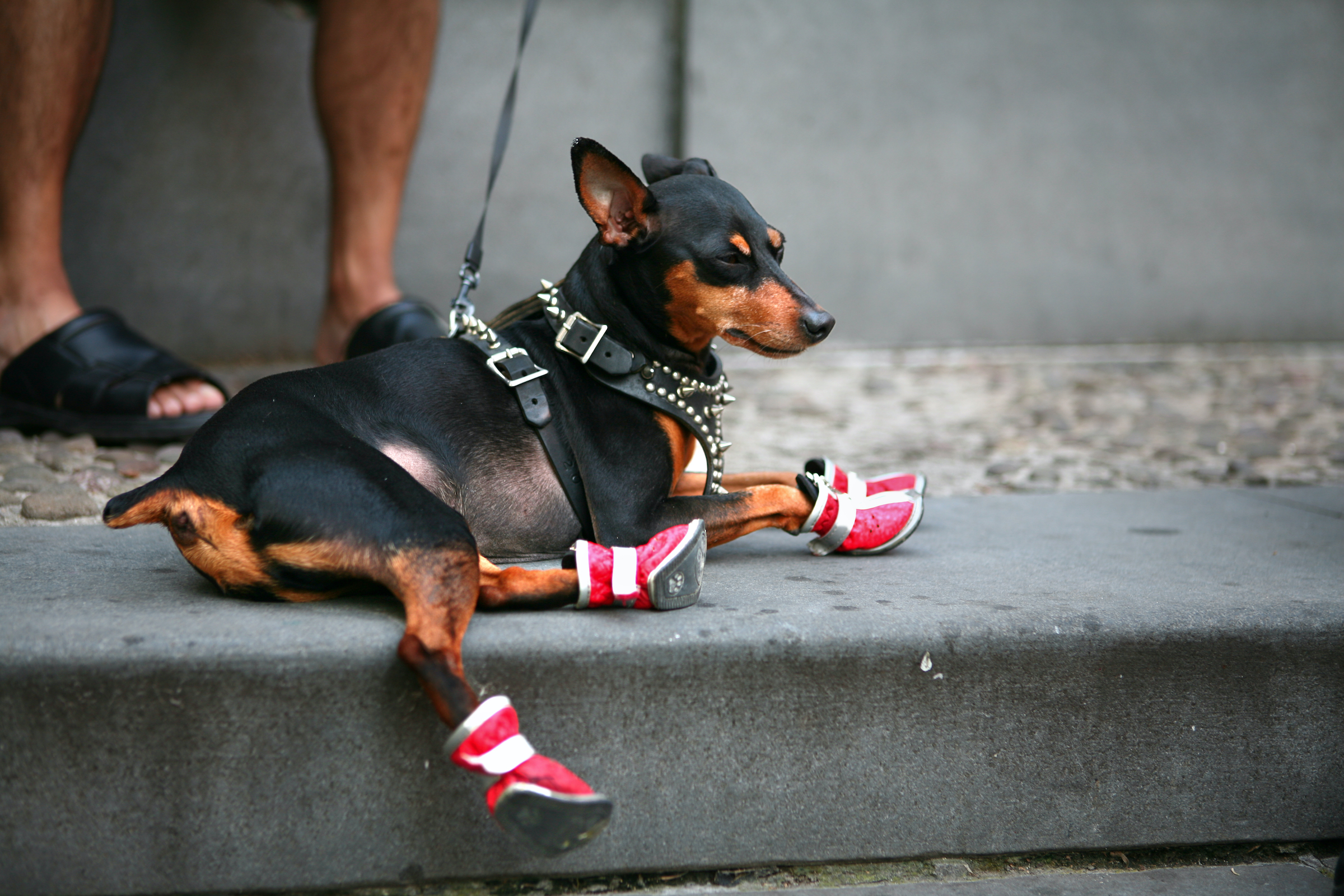 Other heat protection for dogs
Once your fur baby's paws are protected, the biggest danger is out of the way. However, there are still a few precautions you can and should take if you're exercising your dog while it's hot:
Always keep water on hand whether you're indoors or outdoors, as heat can be exhausting (literally). Signs of heat exhaustion in dogs include drooling, dry nose, rapid heart rate, and confusion, among others. This is considered a veterinary emergency and should be taken care of by a vet as soon as you're able to take them.
Keeping your pup in a cool, well-ventilated area will help them ward off heat exhaustion and other dangers.
You can also invest in

dog sunscreen

, which is ideal for the noses and ears of all breeds, as well as the bodies of short-haired and hairless breeds.
Whether you're planning a summertime trip or just want to make sure your pup's safe on your daily walks, keeping your dog protected from the sun will keep them happy and healthy for years to come. Making these adjustments for your furry friend's comfort won't take much time or money, either, so what are you waiting for? Enjoy the sunshine, pet parents!
How hot can concrete and asphalt get in summer?
On a hot day, concrete in the shade can average 70°F, but concrete in direct sunlight can reach 135°F or hotter. Concrete stores heat well, so it can warm to higher temperatures than most other materials and releases that heat more slowly.
Concrete and asphalt absorb a significantly higher amount of heat from the sun. At temperatures of 120°F, pet paws can burn in as little as five minutes. When the surface is at 125°F, burnt paws can happen in 60 seconds.
Asphalt typically gets 10 degrees hotter than concrete. Asphalt's dark color absorbs sunlight which it releases slowly, while concrete's lighter color reflects it.
Editors' Recommendations