If you think family dogs don't make good babysitters, think again. While it's true a lot of pets encourage mischief, sometimes a particularly sweet animal will be perfect for the role of human watching. This adorable beastie has his child minding duties down to a science, as seen in the latest TikTok video in which a happy golden retriever follows around his little girl bestie as she plays through her day. It's called "Who needs a babysitter?" and proves that our buds are up to the task. (Okay, so you shouldn't actually leave your dog in charge of your child — but there are definitely pups out there who make perfect companions for kids.)
"Dogs can't be babysitters," reads the first title in this funny dog video. We see our golden star with his small child and then cut to her in the bounce house with the label "My dog." What follows is a look at all the ways he watches her go about the life of an active toddler, always followed by her trusty companion. (Obviously, the pup pup is not truly babysitting as presumably the parent is the one filming.) In addition to being safe, she clearly adores the attention of her furry friend.
First, we watch the young girl in her bounce house while the goodest boy waits outside, making sure she doesn't take a tumble. Then they take a turn on the swings as Fido pretends to push her along (though actually just follows behind, ensuring that she stays safely in place). Lastly, both baby and pup decide to hit the slides. He watches her go down one time to see how it's done, then goes right up with her and runs down his slide while she glides down hers. It's truly the perfect picture of two best friends.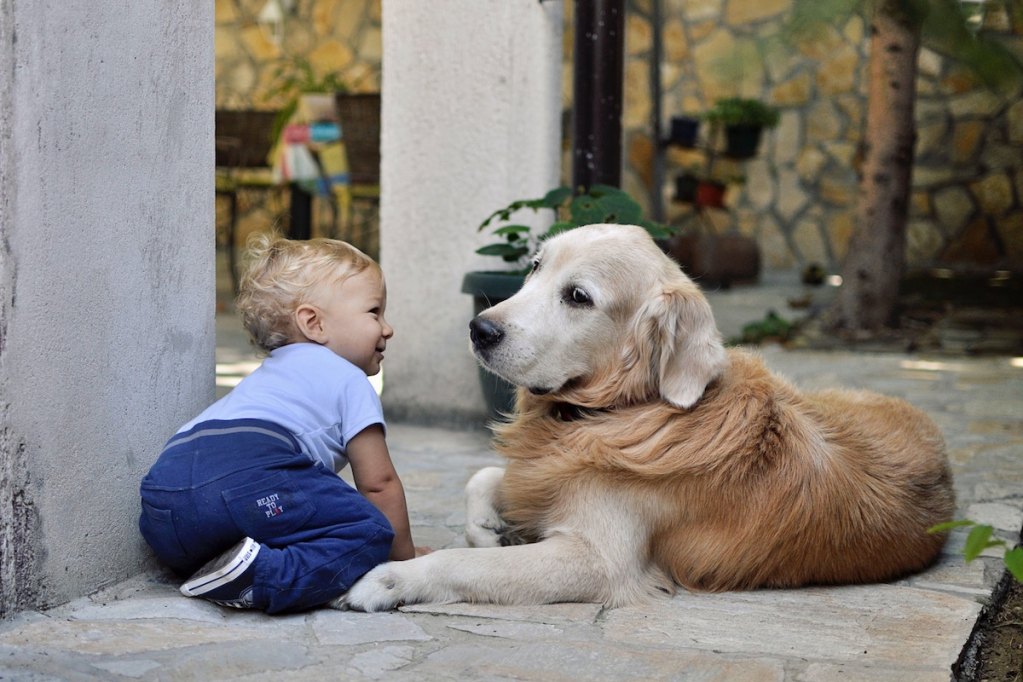 Everyone praised the good dog in the comments, especially other golden owners who have had similar experiences. "Goldens can? My aunt's golden retriever was my babysitter when I was a child," mentioned Julia Śliwa. Another poster Becky observed, "The way he followed her to the stairs, made sure she didn't fall and then waited for her at the end of the slide ?" He doesn't ever let her out of his sight, that's for sure.
Repzey said, "Dogs are the best babysitters? That girl will never be as safe as she is with that dog." Finally, Eliza hit the nail on the head when she said: "The fact that he's smiling the whole time?" It's definitely the happiest video we've seen all week.
While not all dogs will be perfectly suited to this task, some animals are just born protectors. Certain breeds in particular, get the family-friendly label, especially goldens and labs, who will be more likely to take on the job. Though you'd be hard-pressed to find another pup who does it so well as this big guy.
Editors' Recommendations